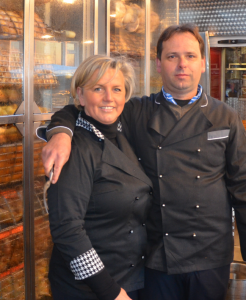 Since 1920 you can find the Heindryckx family at the market. The profession has been passed on carefully from father to son. There was a noticeable evolution throughout time. In the beginning they sold fresh chicken and now you can find roasted chicken with a lot of variation and a large assortment.
Nowadays, you can find Hans and Els together with their children at the market. With a friendly service, they have the ambition to serve a delicious meal for every customer. They are assisted by a hardworking team, who helps them with the preparation and the selling of the products.
The company values daily fresh products and quality. Hygiene stands on top of the company's mission statement. All the meals are being prepared according to traditional methods. Fresh vegetables and carefully chosen ingredients guarantee tasteful meals.